Life Insurance Illustrative/Sales Software
While we don't believe you need software to make sales, we happen to have the best and only "accurate" sales/illustrative software in the industry. If you think the current software you are using is accurate, forward us an illustration and we'll compare numbers.
Our software compares creating retirement income comparing EIUL to mutual funds and EIUL to IRAs/401(k) plan (tax deferred). 
Our illustrative software is the proprietary (only for use with agents we work with). Advisors who are licensed properly with us are able to use this powerful software for FREE.
 I) Comparing mutual funds to EIUL
One of the age-old question in the insurance business is whether using mutual funds to grow wealth or cash value life insurance makes more sense for a client.  While proper asset allocation is always the key, you can in a mathematical manner very simply determine the answer (and many times CLV insurance is a better and more secure wealth-building tool).
This software allows advisors to create "real-world" comparisons and prints out a very professional looking 8-page sales presentation. To view an example output from this software, e-mail info@eiultraining.com. The most visual and powerful parts of the presentation are the following two charts (which communicate the value of CLV insurance both as a wealth-building tool and as a family-protection tool with the death benefit). 
To view an instructional video showing you how the software works, please click here.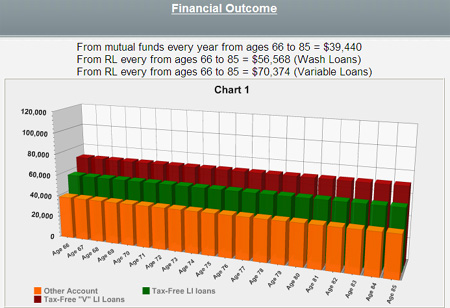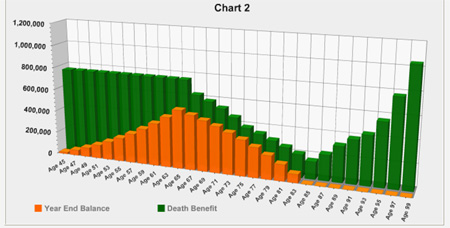 II) Comparing 401(k) Plan Contributions to EIUL           
One of the other age old question in the life insurance business is whether funding tax-deferred qualified plans is a better idea than funding CVL insurance after-tax.  The answer, of course, is that it depends; but for many clients, funding CVL insurance will be a better, more tax efficient manner and a more protective way to build wealth. 
The key is being able to explain why using CLV life insurance as a supplemental retirement vehicle may make more sense than funding a tax-deferred qualified plan.  SMP, LLC, has proprietary software that allows advisors to create "real-world" illustrations for clients to show them the math in a unique 9-page sales output.   The output is 50% education, 50% sales, and 100% understandable.  To view an example output from this software, please e-mail info@eiultraining.com. 
Start Educating and Motivating Your Clients Today
If you are ready to start educating and motivating your clients with these one-of-a-kind illustrative software programs, e-mail info@eiultraining.com.